about 95 min
vocals: Tricky, Kioka Williams, Mad Dog

| | |
| --- | --- |
| 1 | Intro: Ghetto youth |
| 2 | 'Movies don't move me...' |
| 3 | Anti Histamine |
| 4 | Lyrics of fury |
| 5 | 'Bad boy' |
| 6 | Overcome |
| 7 | Ponderosa |
| 8 | Hot like a sauna |
| 9 | Christiansands |
| 10 | 'You' (Tear out my eyes) |
| 11 | Pumpkin |
| 12 | For Real |
| 13 | The moment I feared |
| 14 | Vent |
| 15 | Abbaon fat tracks |
| 16 | Ghetto Youth instrumental |
| 17 | I like the girls |
Here is my ticket (click on it for a bigger pic):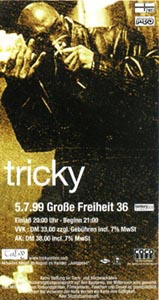 read a review from Visions here (in German!)
read a review from Musikexpress here (in German!)
Here's my review of the show:
The Tricky show in Hamburg's Grosse Freiheit was definitely not sold out. I got there very late, and there were still tickets available. The support act, the Baby Namboos, played only for about thirty minutes, but I really liked their music. They sound a lot like early Massive Attack, maybe with a bit more reggae influence. Tricky joined them on stage and did some vocals, i recognized some lines from "Analyze me". A lot of people in the audience were booing when they left the stage, but only because they thought the Tricky performance was already over!
Then half an hour later Tricky and the band entered the stage to the music of Ghetto Youth, played from dat or CD. The female singer was definitely not Martina, nor Carmen Ejogo. I guess it was Kioka Williams, who also does the female vocals on Juxtapose. For two songs Mad Dog joined them on stage, whose style of rapping is not exactly my cup of tea. One of these songs was the last song, Tricky didn't some up to the stage for the encores at all. I didn't know any of the other musicians.
It was a good show, though I didn't enjoy it as much as the other Tricky shows I've seen so far. I was very much disappointed by the female singer, she wasn't really into the music, in my opinion. Her singing and behaving were obviously a Martina imitation, but she had no energy. Songs like Lyrics of fury showed that she was lacking any kind of flow. But all the faster, powerful songs like 'You', 'Vent', 'The moment I feared' were excellent! They played them for about ten minutes each and the audience was really into the music. So all in all a good show, though I sometimes had the impression that Tricky was almost bored on stage.