about 200 min

(?)


vocals: Tricky, Martina


In a later video interview (watch it on You Tube) Tricky mentioned that he played a concert in Israel once which lasted 6 hours! This was probably it, although he exaggerated a bit. According to a review in Melody Maker it was 3 hours 20 minutes long. Still a record, though! Read this amazing review by David Bennun here: Melody Maker, 18. January 1997 (he also wrote a big article about Tricky's visit in Isreal for Melody Maker released one week earlier, see below).

Here is a big article written when Tricky was in Israel for this gig: Melody Maker, 11. January 1997.

Here is a promo postcard for this gig (click on the pics to see them bigger):

translation: ISAZK production shows: TRICKY 11.12.1996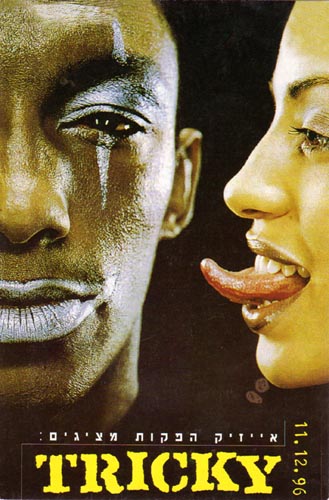 back of the postcard:
translation: TRICKY the concert, Wednesday, 11.12.96, on 21:00 at HANGAR CLUB, near TEL AVIV PORT. New album : PRE MILLENNIUM TENSION now in records stores.