vocals: Tricky, Francesca
about 70 minutes

| | |
| --- | --- |
| | Intro: Phil Collins - In The Air Tonight |
| 01 | You Don't Wanna (Instrumental) |
| 02 | Past Mistake |
| 03 | The Love Cats |
| 04 | Black Steel |
| 05 | Pumpkin |
| 06 | Puppy Toy |
| 07 | Veronica |
| 08 | Slow |
| 09 | Dear God |
| 10 | Girls |
| 11 | 'Move' (unknown song) |
| 12 | Vent |
| 13 | Joseph |
Opening acts: Tim Exile, Junior Boys
read a review with photos at stylemag or Tagesspiegel
(were these guys at the same concert???)
my own review (very short, because I'm too tired to write more at the moment):
- good band
- not so good sound
- too short
- great songs were: Black Steel, Girls and the three encores
- great energy most of the time except for slow songs like Pumpkin or Love Cats
- extended versions (as usual) of a lot of songs: Past Mistake ("I hope Jesus comes"), Girls (including sirens), Vent (always my favorite!), Joseph
- no Council Estate????
Some photos from Flickr:


link

link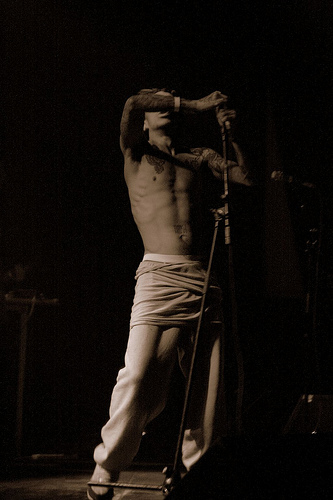 link

link