about 90 min.
vocals: Tricky, Francesca Belmonte

| | |
| --- | --- |
| 1 | You Don't Wanna (Instrumental) |
| 2 | 'I Live Alone' |
| 3 | Nothing's Changed |
| 4 | Parenthesis |
| 5 | Puppy Toy (aborted after some seconds) |
| 6 | Past Mistake |
| 7 | Ace Of Spades (You Tube) |
| 8 | Overcome |
| 9 | Nothing Matters |
| 10 | Joseph (extended) |
| 11 | Gangster Chronicle |
| 12 | Do You Love Me Now (Breeders cover) |
| 13 | I Sing For The Joker (extended) (You Tube) |
| 14 | Does It (extended) (You Tube) |
| 15 | Pumpkin |
| 16 | Vent |
| 17 | 'By Myself' (new song) |
here's my review of the show:

At first I thought: We already saw Tricky live in May this year, what's the point of going again? Well, the point is: it was a much better concert than in May, it was fantastic actually! You could already feel there was something special in the air, because the show was sold out, which has never happened before with a Tricky show in Berlin (as far as I know). The show started with the usual instrumental of "You Don't Wanna", followed by the unreleased song "I live alone". The band was really good, especially the new drummer Luke Harris. While in May the band was still a little stiff on stage and didn't seem to enjoy playing it was really the opposite this time. Then some songs from False Idols followed ("Nothing's Changed" and "Parenthesis"). The audience seemed to enjoy these songs especially, which made me think how many of the people there were "new" fans, who got into Tricky through False Idols and don't really know the older stuff...
"Puppy Toy" was aborted after a few seconds unfortunately, I don't know why. The quite boring "Past Mistake" was followed by "Ace Of Spades" with people on stage - you think it's gets old, but it never does. Well, for me it does, but I guess for people who see Tricky live for the first time it must be a great experience. Although it took really long until the stage was finally filled, so people had to be encouraged by Tricky's repeated "Don't be scared". During the next song ("Overcome") people were leaving the stage again. In the following "Nothing matters" Francesca did a good job with Nneka's part, after that "Joseph" was played in a long version. Although the band had only played 40 minutes at that time, they were leaving and saying goodbye already. I was almost shocked, and also a bit confused why they waited so long to come back on stage. Luckily the encores were longer than the first part, to me it even seemed that the concert just started for real then, and the first part was just like a warm up. They started the second part with the cover "Gangster chronicle", finally Tricky's and Francesca's vocals were a bit louder than before. Although in general Francesca's voice wasn't as strong as it normally has been. In some songs she was more whispering than singing, especially in the beginning of the show. She also seemed a bit nervous or uncomfortable to me, which was unusual, because she has always been great before. Tricky on the other hand was the total opposite, he seemed to enjoy the show and was really present on stage and in a very good mood. While in May he was almost hiding on stage and doing just very few vocals, he was really upfront this time and doing vocals in a lot of tracks. Although in the beginning of the show his vocals were not very loud, sometimes he was close to the mic but no sound came out. People were often screaming "Mikrofoooon", but I don't know if it was a technical problem. But later he was full of energy, especially in the second part of the show, and that energy was really appreciated by the audience and given back to the stage, at least that was my impression. In "Do you love me now" Tricky was as close to actual singing as I've ever heard.
As always a lot of songs were played longer than the album versions with Tricky "directing" the musicians to build up the energy, then taking it out, then building it up again. Sometimes these changes were a little too much and came too quickly, but that may only be my opinion. "Joseph" was one of these longer versions, also Francesca's song "I Sing For The Joker" and "Does It". Especially "Does It" really worked well and was very powerful, so much better than the album version. The drummer was really good in that song. It was followed by "Pumpkin", which I rarely heard live, but maybe it was good to have a calm song before the energy came back with "Vent". This song is a real live classic (again: you think it gets old, but it never does. At least not for me, I would go to a Tricky show even if they only played Vent for 90 minutes). Unfortunately it was played only shortly, or maybe I just lost track of time by then. The last song was a new song, or at least an unreleased song, it had the lyrics "I'm all alone" repeated a lot. Tricky again let people on stage, which was a really funny contrast to the lyrics, all alone surrounded by a lot of people! At the end of the song Tricky vanished into the audience. The band still played, while Tricky was slowly moving more and more to the back (you could always guess where he was by the lights of cameras or mobile phones). Then the band stopped, the lights turned on, the show was obviously over, the audience still on stage, slightly confused. Tricky arrived at the bar in the back of the room, still hanging out there for a long time - talking and hugging people, posing for photos. He seemed to enjoy the night as much as the audience! Even if you have seen Tricky live many times like I did - I think it's definitely worth seeing him on this tour, he seems to be a changed man compared to earlier this year!
here are some photos by Thorben (thanks!):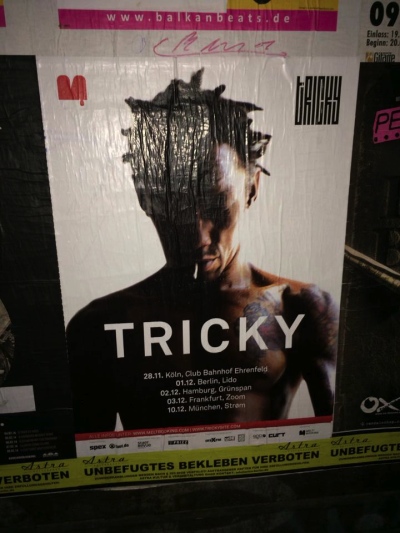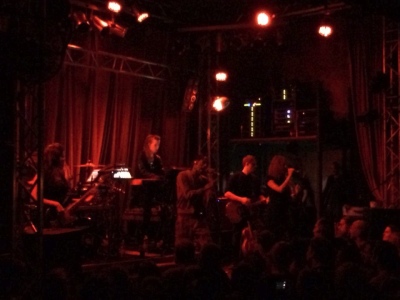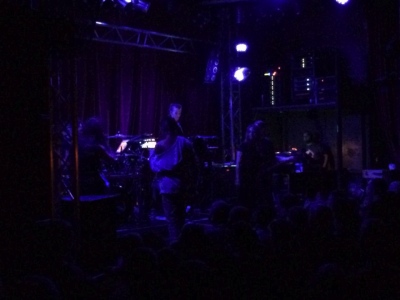 here's a review from Tagesspiegel:
Schillernde Aura: Tricky im Lido

Es dauert nicht lange, bis Adrian Thaws alias Tricky sein T-Shirt auszieht und mit einem für einen Mittvierziger beeindruckend drahtigen nackten Oberkörper vor dem Publikum steht. Die meiste Zeit sieht man ihn, wie er das so gerne macht, von hinten. Das wurde ihm oft als Arroganz ausgelegt, aber wahrscheinlich kommuniziert der Mann aus Bristol so einfach besser mit seiner Band. Tricky ist ja kein begnadeter Rapper, nicht mal ein Sänger ist er im Wortsinne, er sprechsingt maximal, und das auch nur, wenn er gerade Lust hat. Die eigentliche musikalische Arbeit überlässt er ganz der Band, die nur ganz selten mal den Trip Hop früher Tage anstimmt und eher klingt wie eine Crossover-Metalband vom Schlage Rage Against The Machines. Und doch zieht Tricky mit seinen raubtierhaften Bewegungen alle Aufmerksamkeit auf sich. Er ist das Medium, das allein durch seine immense Aura das Konzert im ausverkauften Lido orchestriert. Wie gebannt blickt man auf ihn, wie er sich den x-ten Joint ansteckt oder seine Haare zu den rockigen Gitarrenriffs schüttelt.
Vor beinahe 20 Jahren wurde Tricky zum Superstar des Trip Hop, um seitdem immer ungreifbarer zu werden. Galt seine Musik früher als hochgradig kaffeehaustauglich, könnte er heute auch im Vorprogramm von Motörhead bestehen. Er covert sogar deren "Ace of Spades", zu dem er zehn Mädchen aus dem Publikum auf die Bühne holt, die sich gemeinsam mit seiner Band durch den Metalklassiker rocken. Dass der Vorwurf der Arroganz bei Tricky ins Leere läuft, zeigt sich nicht zuletzt daran, dass das Konzert gar kein Ende nehmen will. Tricky treibt seine Band immer weiter an, bis am Ende das Publikum mindestens so erschöpft wirkt wie er selbst. Andreas Hartmann
(http://www.tagesspiegel.de/kultur/kurz-und-kritisch-kurz-und-kritisch/9158848.html)